Introduction to Hanamaki
A town with stunning sights throughout the year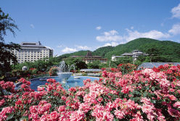 Surrounded by the Ou Mountain Range to the west and the Kitakami Highlands to the east, Hanamaki is spread over 908.32 square kilometers on the Kitakami Plain at the center of Iwate Prefecture. There are breathtaking sights to be seen here in every season.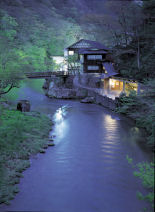 The Hanamaki Hot Springs area is located along wooded gorges in the Ou Mountain Range. This area shows the best of Japanese atmosphere, cloaking the stunning natural scenery in mist in the Iwate Prefectural Nature Park.
At the north east edge of Hanamaki is Mt. Hayachine (1917m), the highest peak in the Kitakami Highlands. It attracts numerous hikers from all over Japan with its various and beautiful alpine flora, in particular the endemic species' native to this mountain, Hayachine Usuyuki So (Leontopodium hayachinense).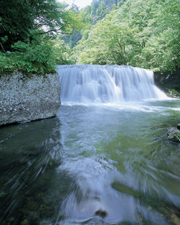 Rivers such as the Kitakami River, which flows gently through Hanamaki, benefit us all. One of the mountain streams in the Ou Mountain Range, the Kuzumaru River, is perfect for forest bathing, fishing, viewing autumn leaves, oddly-shaped rocks and waterfalls. Especially alluring is the mountain runoff, Taroshi Waterfall, that pours into the Kuzumaru River, freezes and becomes a huge ice pillar in the winter. The local people have a custom of predicting the crop growth for the coming year based on the size of the ice pillar.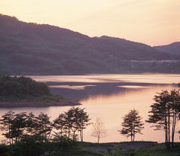 Also, in the summer, a 45 square-kilometer lake called Lake Tase attracts many tourists with its yacht harbor, campgrounds and Iris garden on the shore of the lake.
The citizens of Hanamaki are proud of the breathtaking scenery that appears during all four seasons. Please enjoy the natural beauty of Hanamaki whenever you visit.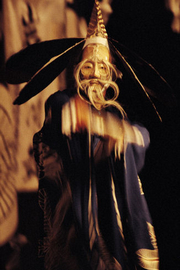 Hanamaki is well-known as the hometown of not only great men such as Kenji Miyazawa (a poet, author, and renaissance man) and Tetsugoro Yorozu(a pioneer of modern art in Japan), but as a place of traditional performing arts (Hayachine Kagura Dance and Shishi Odori deer dancing), traditional crafting techniques (homespun and Saki Ori which is a weaving that reuses old cloths) and Nanbu Sake Master Brewers. In addition to that, Hanamaki is a hub city of the high-speed transportation network in the Northern Tohoku District consisting of the Iwate-Hanamaki Airport (the only airport in Iwate),a Shinkansen station, and two express highways (The Tohoku and Tohoku Interstate Expressways). The well-balanced environment of traditional culture and modern convenience makes this city a very attractive place to visit and live.
The climate is roughly separated into two zones in the city. The lowland, east of the Kitakami River, is strongly influenced by the typical inland basin weather, which causes wide temperature variations in summer and a comparatively warm, briefly snowy winter. On the other hand, the base of the Ou Mountain Range, west of the Kitakami River, has a very cold, snowy winter between December and March. However, since the mountain range shelters us from the cold Siberian westerly wind, we don't get as much snow as the west coast area of Japan.
Population, size of Hanamaki (as of November 30th, 2014)
population: 99,881 citizens (male 47,482 / female 52,399)
households: 36,444 units
size: 908.32 square kilometers
より良いウェブサイトにするために、ページのご感想をお聞かせください。