Outdoors
Outdoor activity sites that transport you to the stars
Kenji Miyazawa often wrote about the Kitakami River, waterfalls and waterfront areas around Hanamaki in his literature. Probably the clean and gentle flow of the river nourished his soul and inspired him to imagine the universe and beyond. Let us show you the places where you can enjoy outdoor activities in Hanamaki.
Lake Tase Auto Campground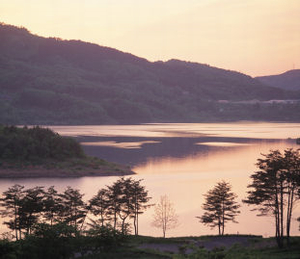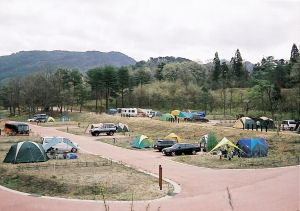 Located next to the fishing park, this campground has some sites with electrical outlets. Tase Lake Center Ph.0198-44-5427
Lake Tase Fishing Park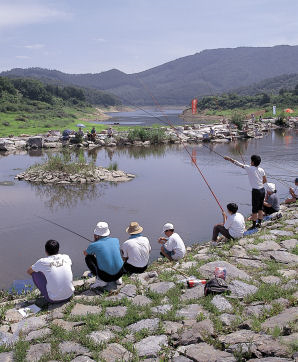 Beginners are welcome! You can rent a rod and catch big carp and crucian carp. Ph. 0198-44-5007 (Apr. – Nov.)
Ikoi no Mori Campground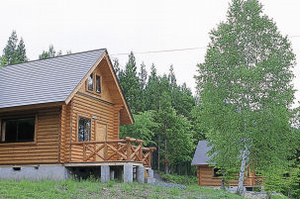 The 66-hectare park "Ikoi no Mori" is a part of Mt. Kannari in the Tase area. It has cooking areas, running water, lodges, training tracks and nature trails. From the top of Mt. Kannari, you can view Lake Tase below. The new green leaves in the spring and the autumn colors are especially beautiful. On the nature trail, you can enjoy hearing birds sing and occasionally see small animals.
Ph. 0198-44-5846 (Apr. – Nov.)
Towa B&G Marine Center (yacht harbor)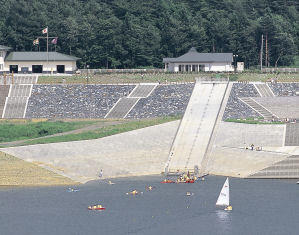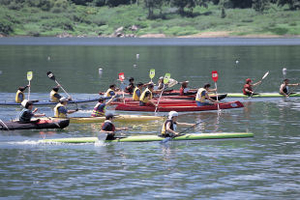 Instructors can teach you how to sail or canoe. As the lake doesn't have a current, it's a perfect place for beginners and families. Ph. 0198-44-5336 (Apr. – Oct.; closed on Mondays)
Hanamaki Recreational Park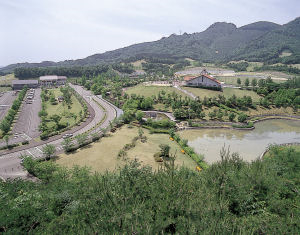 This large park, with its multipurpose grounds, golf course, sports facilities and natural forest, can be enjoyed during all seasons. Ph.0198-27-3586
Namari Onsen Ski Resort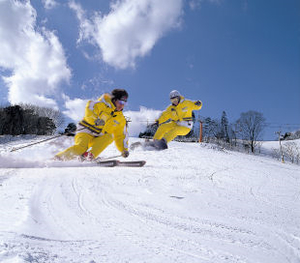 A good mix of courses make this small ski resort an escape for skiers and snowboarders of all levels. Reasonably priced and seldom crowded, Namari Onsen Ski Resort is a hidden gem. Ph.0198-25-2711
Ishidoriya Ice Arena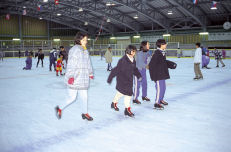 Conveniently located next to the Ishidoriya Roadside Station, this indoor skating rink is popular among families and youth groups. Ph.0198-45-6661
Morioka South Golf Club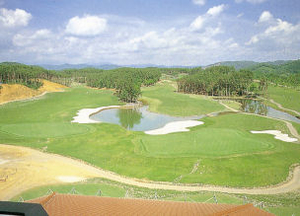 Open-style courses are rare in Tohoku and this golf club has an excellent reputation. These intelligent, varied links give golfers a fair test of their abilities. Spending time in the southern European-style clubhouse is also popular. Ph.0198-45-5681
Totsukamori Forest Park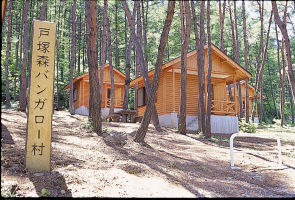 This park, a 10 minute drive east of Ishidoriya Station, has some outdoor facilities such as a playground, lodges and a campground. It's a good place to enjoy the beauty of nature from spring to autumn. Ph.0198-45-2111
Waterfalls in Hanamaki and their folk stories
Kenji Miyazawa wrote about waterfalls in his poems and fairytales. There are many in Hanamaki.
Kuzumaru Stream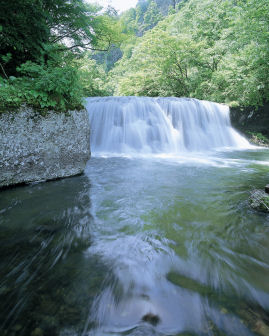 One of the branches of the Kitakami River, the Kuzumaru River has a 6km-long stretch of mountain stream in the Ou mountain range. The area is perfect for bird watching, fishing and viewing autumn leaves, especially at the beautiful Ichi no Taki falls and Mt. Mitsukura. Kenji immortalized this beautiful waterfall in verse.
Taroshi Falls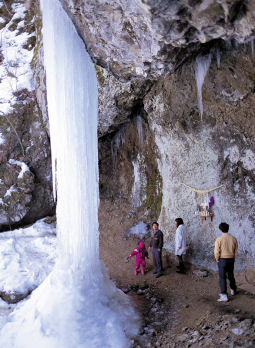 Some mountain runoff that pours into the Kuzumaru River freezes and becomes a huge ice pillar in the winter. The local people have a custom of predicting the harvest of the coming year from the size of the pillar, measuring it on February 11th.
Nanaori Falls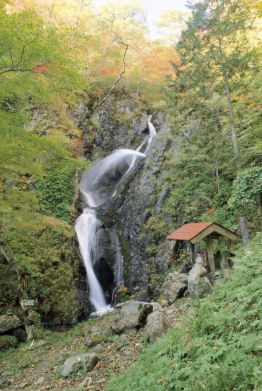 This 50m-high waterfall, on the side of Mt. Keitosan, often changes the direction of its current. The fierce Bodhisattva, Fudō-myōō, (Acala in Sanskrit- literally "immovable" one) is carved into the rock above the basin.
Fuenuki Falls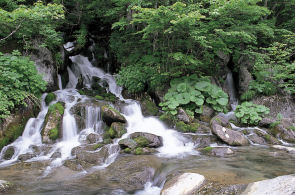 The Fuenuki Falls are located about 1km away from the Kawara no Bo trailhead for Mt. Hayachine. These waterfalls are said to be the location of Kenji's fairy tale, "Wildcat and the Acorns". The water used to spring forth from seven holes in the rock, like a Japanese flute.
Ozora Falls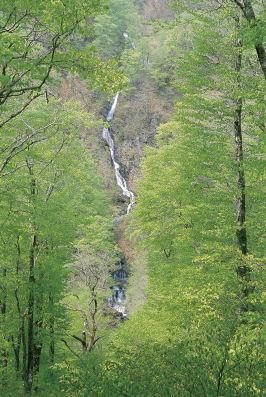 The water of these 83m-high, 6m-wide falls comes from a beech forest about 3km above the falls. In Kenji's "The Bears of Nametoko", it is described as follows: "You might be puzzled to see something long, white and narrow trailing down the mountain in a flurry of mist." The 90 minute walk to reach the falls also provides excellent views of forested mountains.
Kamabuchi Falls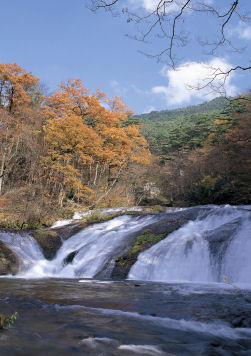 Located about 10 minutes' walk from Hanamaki Hot Springs, Kamabuchi falls, which is 8.5m high and 30m wide, became the location of Kenji's short story, "The Dai River".
より良いウェブサイトにするために、ページのご感想をお聞かせください。