Three Kinds of Popular Alcoholic Beverages
Type 1ーThe Nambu Sake Master Brewers
Pride in Traditional Techniques
The sake brewers of Hanamaki are famous for their skill and adherence to tradition. In fact, Nambu Sake Master Brewers (or Nanbu Toji, in Japanese) are one of the top three guilds of brewers in Japan, along with the Echigo and Tanba Brewers.
Sake production is one of Iwate's major industries. Iwate's environment is well-suited to producing sake, because of its excellent water and rice. Once Hanamaki brewers qualify and are chosen as Nambu Sake Master Brewers, they are invited to advise at over 300 breweries across Japan.
Taste delicious sake here in Hanamaki.
Nambu Sake Master Brewer Museum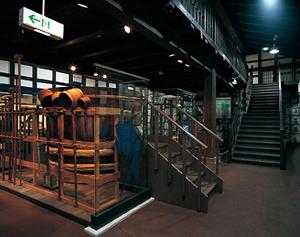 This building, a restored sake brewery with traditional brewery architecture, is a very important structure historically and culturally. It displays equipment for making sake, including a large wooden tub that measures two meters in diameter, and movies about sake brewing history and the production process. Ph.0198-45-6880
Ishidoriya Agriculture Museum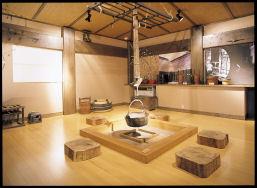 You can learn about the relationship between brewers and rice farmers from the displays of annual farming events and farming equipment. You can also experience weaving. Ph.0198-45-6566
Sakashokan (gift &souvenir shop)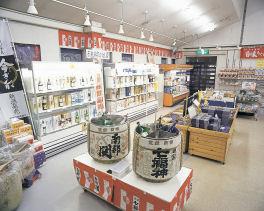 They have many unique gifts and souvenirs. The sake cakes, sake buns and sake noodles are particularly popular. There are always several types of local sake available for free tasting and of course purchase. And why not try some delicious sake ice cream while you're there! Ph.0198-45-6868
Ishidoriya Roadside Station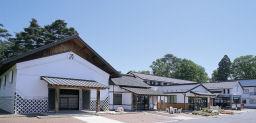 This contains the Nambu Sake Brewing Museum, the History and Folklore Museum, the Agriculture Museum, Sakashokan, the restaurant, Rindo Tei, and a library. Spend a relaxing time in this pleasant environment. Ph.0198-45-6868
Ishidoriya History and Folklore Museum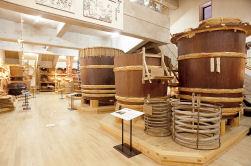 This museum introduces the process and equipment of sake production. In their collection, 1,788 items are registered as important national cultural assets. Ph.0198-45-4513
Nambu Sake Master Brewers' Festival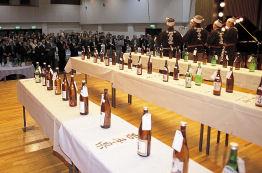 Enjoy events held with Sake Master Brewers. The best part is the party where you can drink as much quality sake as you like brewed using rice from all over Japan. Ph.0198-45-2111
Type 2ー The Top Brand of Japanese Wines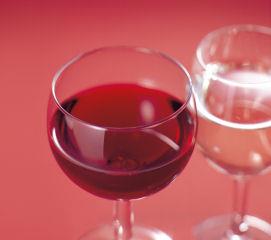 Ohasama, Hanamaki, is a major grape-producing area with similar conditions to Bordeaux in France. This means less rain, a significant temperature gap between day and night, and mildly alkaline calcareous soil.
It has been more than 40 years since winemaking began in Ohasama. The brand, Edel Wein, is now nationally well-known. With the motto, "Excellent grapes become excellent wine", the winemakers work with grape growers to improve wine quality. As a result, their wines win many prizes.
Come and visit the winery and enjoy good food with fine wine.
Wine Chateau Ohasama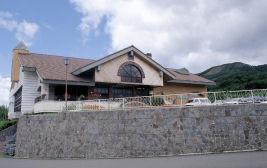 You can enjoy tasting wines, shopping for gifts and learning the process of wine production.
Restaurant Berndorf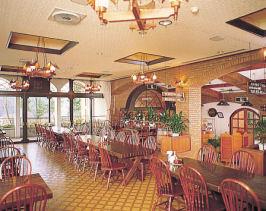 This is a European-style restaurant where you can enjoy wine and delicious meals in a relaxed atmosphere.
Lakeside Café Mont Village (Restaurant)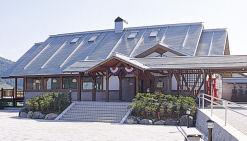 You can have lunch while admiring the fantastic view of Lake Hayachine.
Wine Festival
Enjoy unique events, such as the Hayachine Kagura Dance and grape crushing performed by girls with their feet. Sample local food and wine.
Type 3 ーHanamaki leads Japan in millet production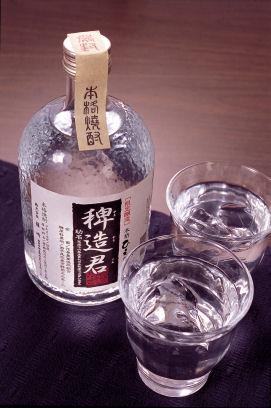 This is shochu (a distilled spirit) made from Japanese millet that contains eight times more dietary fiber than rice. It has a reputation for sweetness and a mild flavor.
より良いウェブサイトにするために、ページのご感想をお聞かせください。